Dean Brooke | Opinion
The UK fashion retail chain Claire's Accessories recently published a status update to their official page on Facebook, featuring Brooklyn-based child "drag artist" Desmond Napoles (who performs under the stage name of "Desmond Is Amazing"), pictured modelling their accessories while dressed as a heavily-stylised teenage girl.
The fashion retailer Claire's Accessories has since deleted the post after an overwhelmingly negative response from Facebook users and complaints from followers and shoppers, who have left overwhelmingly negative comments and feedback on the official Facebook page for the Claire's Accessories brand.
Questions still remain, however, regarding the Claire's Accessories fashion chain and its willingness to support the current trend of sexualising children and encouraging them to engage in adult-oriented entertainment, such as drag and striptease.
Indeed, the performer Desmond Napoles has appeared in YouTube videos on his own channel, apparently modelling Claire's Accessories-branded fashion items.
Desmond modelled Claire's Accessories' "Unicorn Fanny Pack" on his own video blog, published earlier this year [1].
This raises disturbing questions about the nature of big businesses in the UK that are openly promoting Leftist gender ideology and the ongoing sexualisation of children within society.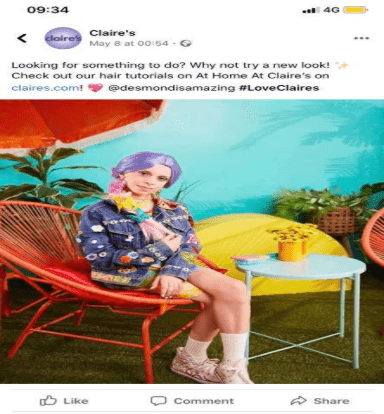 Desmond Napoles first rose to online prominence after a video emerged online of him dancing for a group of men, who proceeded to throw money while he twerked for them, dressed in a blonde wig and wearing a crop-top [2].
He has also appeared in a music video with RuPaul's Drag Race winner Jinkx Monsoon, in which he performed "The Bacon Shake" in a red dress while dancing on a table in a bar [3].
Despite the fact that Claire's Accessories saw fit to delete the post, it is clear that elements of the UK business establishment are fully signed up to the Leftist gender ideology. We should not allow them to get away with this, as it represents a significant move towards normalising the sexualisation of children.
Indeed, one of the motivations behind promotion of the trans ideology and the sexualisation of children by brands such as Claire's Accessories could well be to effectively expand their target market from being primarily women and girls.
As conservatives, we need to stand against this and should not excuse businesses who engage in these practices purely on the basis of being pro-business and believing in free markets, because the sexualisation of children will be difficult to reverse if society does not take a stand against it now.
And of course, as conservatives who believe in free markets, we should (and should encourage other people to) vote with our wallets and boycott businesses that support Leftist agendas and causes – starting with Claire's Accessories.
[1]
https://www.youtube.com/watch?v=49jT5gu3Zv0
[2]
https://www.youtube.com/watch?v=majcQ54vlDs
[3]
https://www.youtube.com/watch?v=zeaVCB9qlto&feature=youtu.be&t=68